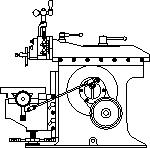 Big Cuts
How big a cut can I take with my shaper? In the good old days, shapers were the work horses of the shop. They had the reputation of being the machine that could remove the most metal in the least amount of time. We frequently heard of ½ inch cuts with figure-9 shaped red hot pieces flying off the shaper leaving a smoke trail behind. Today these machines have been eclipsed by the new CNC mills with liquid cooling. Most of us now are using small (almost toy compared to their big brothers) shapers with 7 or 8 inch strokes and fractional horsepower motors. Also we are in this now for a hobby, not making a living, so speed is not as important as enjoyment of the process. But…

Shaping Shackle                                      Photo by Shane Carr
Shane Carr from Port Moody, British Columbia, Canada has been using big shapers in his business of building large scale locomotives. His shapers were featured in shaper column 47 in our August 2005 NEMES Gazette.
This month we will look at some of the jobs Shane has been doing with his large shapers.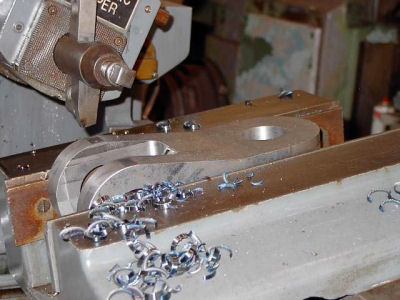 Finishing Shackle                                    Photo by Shane Carr
The first job was a shackle for an overhead crane. It was shaped from a 12 inch long by 8 inch diameter 4140 steel bar. This gave Shane lots of cutting time on the shapers. He started with a 1 inch square high speed steel tool bit that was 7 inches long. This worked fine for about 10 min. then it broke in half when the interrupted cut was going through the 2 inch diameter hole in the shackle. Shane says this failure was because he didn't put a shim under the tool bit. He was forced to finish the job with a shorter 3 inch long tool bit which restricted his cuts to ½ inch deep with a .025 feed. He also tried a lathe tool holder with carbide insert and said it worked well but not as good as the high-speed steel tool bit.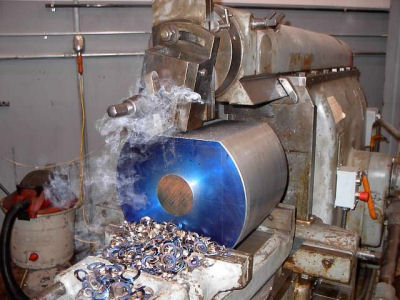 Optical Bomb Ruff Cuts                          Photo by Shane Carr
In a book, Shane saw a 24 inch Cincinnati shaper (same as one he has) taking a 2 inch deep cut with a .030 feed in steel.

Optical Bomb - Squaring                         Photo by Shane Carr
The second job Shane describes is making an optical bomb. This is a device used by the University of British Columbia for testing fuel injectors. It has three widows on the sides for viewing the 3000 PSI spray patterns. The widows are 2¼ inches thick. The main body is made from 1020 steel round bar, 15 inch diameter by 12 inches long.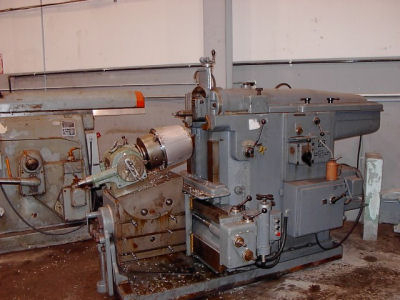 Locomotive Piece                                    Photo by Shane Carr
The 28-inch Rockford was used to shape a piece for a model locomotive he was building. It was machined from 10½ inch diameter by 10 inch long steel bar. It is a transition piece from 0 degrees on the bottom to a 14 degree taper on the top. He did it by rotating the indexing head and the table angle simultaneously. The stepped finish was then sanded smooth.
This was a good time for Shane to try out his big shapers - the 36 inch Gould & Eberhardt and the 28 inch Rockford hydraulic. He says the large vises make it easy to hold the big round bar.

Optical Bomb - Finished                          Photo by Shane Carr
Comparing the two machines – the 36 inch GE made the ½ inch cuts with no effort, smoothly and quietly. Adjusting the stroke requires considerable effort when moving from 1 inch stroke to 36 inch stroke. The 28 inch Rockford hydraulic had no effort with ½ inch cuts either but the noise of the hydraulic pump and clack of stroke dogs was annoying. Shane says setting up the stroke on the Rockford hydraulic takes seconds by moving the dogs and setting the feed and speed by moving a handle.
Thank you Shane for that shaper story.
Keep sending me email with questions and interesting shaper stories.
My email address is KayPatFisher@gmail.com.