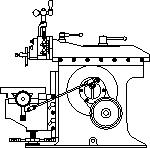 Atlas Rotary Indexer
If I had to identify the most useful shaper accessory, I would probably say a rotary table. This month's contribution comes from Mike Fendley, in Le Claire, Iowa. I first became aware of Mike's indexer by seeing a "for sale" ad on eBay. Mike graciously agreed to share the pictures and some details of his rotary indexer.

Atlas Rotary Indexer Photo by Mike Fendley
"This is an Atlas 7" shaper rotary indexer (S7-421) that I purchased off eBay a few years back. It was rough, but intact except for the two tiny holes. I made the T-nuts, studs, clam shell clamp, chuck adaptors, and adjustable clamps. I found the wrench (with another open end at the opposite end) in a surplus place for $2, cut off the unneeded end and rounded it, then reground the 11/16 end to make it shorter so it would fit the tiny slot. It was a high quality wrench to begin with and added to the unit. The tool post grinding of the unit made the most difference. I only removed 0.005", but that cleaned it up nicely. I then took a couple of passes on the stepped edge as well and that really made it look nice. The only dings in the unit were the two 1/8" drill holes. I patched them with Devcon epoxy mixed with cast iron fillings. I should have used more cast iron and really packed it in. The tool post grinding almost made one hole disappear! If I had put more cast iron dust in it, they both might have disappeared. Lots of work went into it.
The following came from the eBay ad itself:

Wrench and Part Number Photo by Mike Fendley
It has a removable tapered pin that can index 12 positions. The actual diameter of the indexer is 5.5" and was designed to fit an Atlas 7B shaper and the MF series mills. It will also fit most small mills, and up to 10" shapers if you bolt it asymmetrically (2 opposite ears.) It fit my 8" Logan perfectly in this fashion. It can bolt onto the top and the side of the Atlas shaper. The indexer has a slot for a key for alignment. The 5/16" mounting holes are 4.5" c to c square, and 6 3/8" c to c on the diagonal. The indexer's table was accurately tool post ground on a lathe (using an Atlas tool post grinder of course) removing no more than 0.005 to get a beautifully flat surface and edge.

Indexer with Accessories Photo by Mike Fendley
Accessories included are: 6 – 5/16" T-nuts, 6 – flanged 5/16" nuts, 12 – 5/16" studs, 4 @ 3.125", 4 @ 2.125", 4 @ 1.125" in length, 4 – 1/4" T-nuts, 4 – 1/4"x20x 1" studs, 4 – 1/4" flange nuts, 2 – 5/16" slot hold down clamps with 1/4" elevation screws on each.

Chuck Adaptor Clamps Photo by Mike Fendley
Two chuck adaptor clamps (using the 1/4" T-nut set up), 1- 1"x 10 TPI chuck adaptor, 1- 1.5 x 8 TPI chuck adaptor, one 5/8" hardened pin for alignment of the indexer on a mill or for centering round gears, pulleys, etc., and one 11/16" wrench to fit the special nut locks at the underneath sides of the indexer.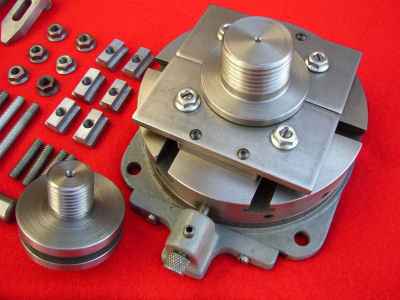 Chuck Adaptors Photo by Mike Fendley
The chuck adaptors allow you to machine special bolts on your lathe, leaving the bolt in your chuck (2 different mount sizes), screwing it to your indexer, and then using your shaper or mill cut 4 flats, or 6 flats, keeping everything concentric. Always remember to cut on the "right side" of the chuck to keep it tight and not unscrew it from the adaptor.

Three Tooth Clutch Setup Photo by Mike Fendley
These photos show a "3 toothed clutch" set up on the indexer. A pin was used for concentricity of the gear on the table, clamps were applied, the pin removed, and then three passes with a mill or shaper tool, indexed 3 times gives you a flawless clutch. Offset the cutter 0.002" past the center line to allow the mating 3 toothed clutch to engage the one you machine. The gear in the picture was machined in this fashion. The 1.5 x 8 TPI chuck adaptor has a 1.530 "registration" area beneath the threads that fits my SB chuck. You may need to turn this down some to fit your chuck. Both adaptors may be a little "tall" depending on your chuck. Flat machinery washers can make up the difference by putting them on first, or by facing the adaptor's threaded area to get proper clearance on your chuck.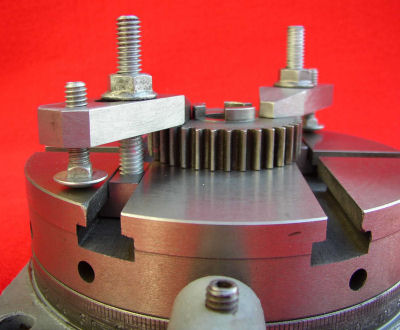 Path of 1 of 3 cuts. Photo by Mike Fendley
It's a great little indexer. I've got a bigger shaper and a bigger indexer now. I sold it on eBay for $355 to a home shop guy (now friend) who has an Atlas shaper and a 6" Atlas lathe. I hope he enjoys using it as much as I enjoyed putting it together."
Thanks Mike for that information about a great shaper (and mill) accessory and how to fit it up with useful accessories.
I bought an 8 inch rotary table with indexer from ENCO a few years ago for around $229. The first thing I did was make a nose piece to match my lathe. In hind sight I wish I had purchased a smaller 6 inch rotary table. I have yet to need the size of the 8 inch table and it is heavy. But I use a small 7 inch lathe, 8 inch shaper and the smallest Bridgeport mill ever made. Also my 8 inch indexer came with a MT3 taper and both my mill and lathe are MT2. At the time 6 inch rotary tables with indexers were hard to find. Now I see them regularly.
Grizzley Industrial has them for $255:
Smitty tools has one that cost a bit more and the indexer is extra:
Lastly Harbor Freight has one available with the indexer for $169:
www.HarborFreight.com/place.html
Most 6 inch indexers are MT2 but be warned at these low prices don't expect Starrett quality. When I purchased my 8 inch rotary table from ENCO the store was local in New Hampshire and I had to reject the first two they brought out from the warehouse because they were binding up.
Keep sending me email with questions and interesting shaper stories.
My email address is KayPatFisher@gmail.com.