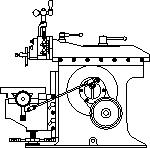 Shaper Hacksaw Attachment
While I will be the first one to admit every home shop machinist does not need a shaper – everyone does indeed need a power hacksaw.
I've thought about the idea of making a simple hacksaw attachment for a shaper and indeed have seen them mentioned before. Thanks to Larry Kiesler, we finally have photos of one that came with his 14-inch Steptoe shaper.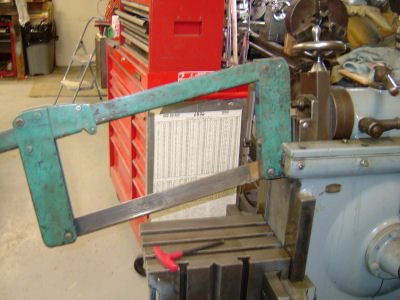 Hacksaw on Steptoe Photo by Larry Kiesler
The overall length of the shaper is 36 inches. It uses a 20-inch hacksaw blade. The hacksaw attaches to the clapper box with the mount.
When Larry sets the ram back as far as it will go and sets the stroke to 14 inches, he only has 5" of table to clamp the work. There is no provision to add weight to the end. Larry thinks the hacksaw is already too heavy.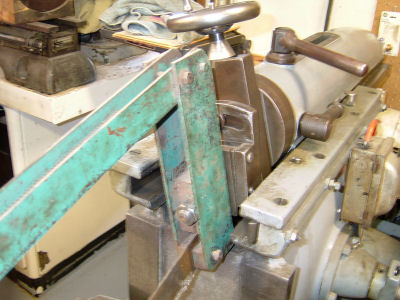 Hacksaw on Clapper Box Photo by Larry Kiesler

Hacksaw T-Nut Photo by Larry Kiesler

Hacksaw on Wall Photo by Larry Kiesler
The T-nut mount seems quite reasonable and the long threaded shaft and handle that looks like the end of a scissors jack appears to tighten the hacksaw blades.

Hacksaw Threaded Shaft Photo by Larry Kiesler
Someday, I plan to refurbish an old power hacksaw that I purchased at a yard sale. Most power hacksaws have an adjustable end weight. Several designs attempt to reduce weight during the return stroke. With modern high-speed steel blades it may not be necessary to relieve the weight on the return stroke.
If anyone has their own shaper hacksaw attachment please send me pictures.
Keep sending me email with questions and interesting shaper stories.
My email address is KayPatFisher@gmail.com.