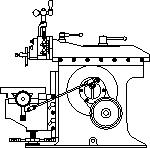 Collecting Shapers
How many shapers is enough? It is certainly not a frequently asked question. At one time I had 5. A Lewis 10-inch, a Logan 7-inch, a Rhodes 7-inch, a Pootatuck shaper casting kit, and one of those little PM research 1/12-scale kits. The last two don't hardly count and I have since sold off the Logan and Rhodes, but I recently acquired a Logan 8-inch that I am currently rebuilding – and it needs it.
But Shane Carr from Port Moody, British Columbia, Canada has been collecting shapers in a BIG way. A few months ago, when he had three large shapers, he sent me some pictures. Just recently he updated me with more pictures of all 5 of his shapers.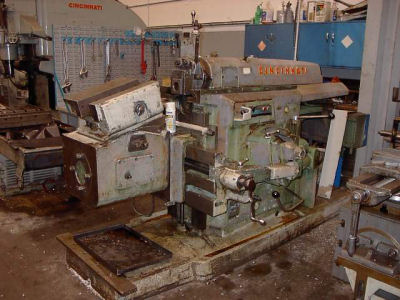 24 inch Cincinnati                                    Photo by Shane Carr
Shane's first shaper is a 24-inch heavy duty Cincinnati which came from Lansing, Michigan. It was originally from the Chrysler Junior Tool and Die plant. Built in 1968, it was one of the last shapers they built, serial number 3510.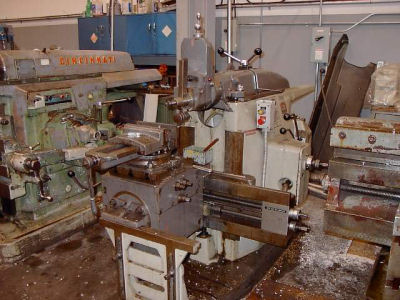 24 inch Elliot                                            Photo by Shane Carr
Shane's second shaper is an Elliot, 24-inch shaper, built in 1968. It came from the Wiser Lock Tool and Die shop, in Vancouver, British Columbia. He has the original bill of sale for $7,500.00 in 1968.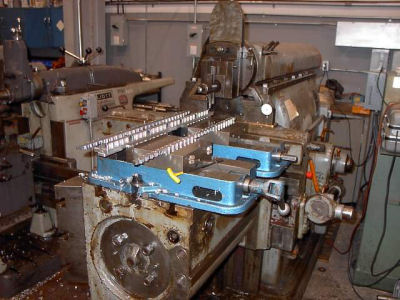 36 inch Norton by G & E                        Photo by Shane Carr
His third shaper is a 36-inch heavy duty Norton. Also built in 1968, it came from the United States Navy. The original cost stamped on the machine plate was $20,500.00. It was made by the Norton Company in Worchester Massachusetts for Gould & Eberhart. The ram slide ways are chrome plated. It has Rapid Traverse in all directions. The setup above with the two vices is for making parts for window frames for a 1908 Interurban street car. The original parts were long rusted away. It makes the wavy part that holds up the window when placed at different heights. Shane made 80 new pieces from aluminum flat bar 3/8" x 1 ¼" x 30" long. He milled the wavy profile on both sides with a CNC milling machine. Next is splitting it in half to make two pieces. He made a fixture, put it in the two vices, and used an old parting tool. Shane says it worked great! He set the machine to 40 strokes per min. It took 20 strokes to split the parts. That was as fast as he could down feed the tool! Shane says he knew for sure this was faster than his CNC milling machine.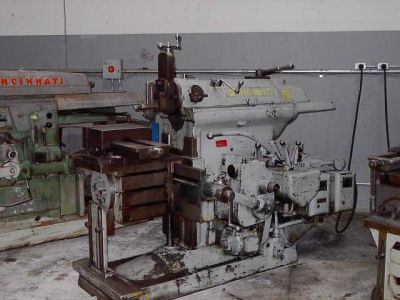 20 inch Smith and Mills                           Photo by Shane Carr
His fourth shaper is a 20 inch Smith and Mills.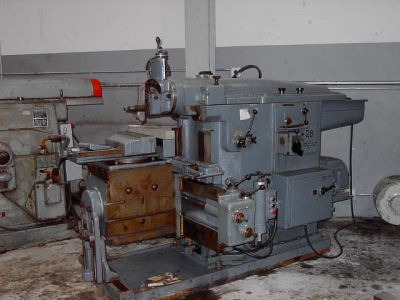 28 inch Rockford                                     Photo by Shane Carr
His fifth shaper is a 28 inch Rockford Hydraulic shaper which was built in 1979. He found it on E Bay. It came from a South Carolina, Power Plant. He had it picked up by a trucking company but when it arrived at his shop it had a 3 inch piece of cement stuck to the bottom of the machine base. Shane had to rent a jack hammer, block up the machine 2 feet and blast it for 6 hours to get flush with the base. He said it felt like he was carving faces in Mount Rushmore! The machine does not look like it was used at all. He ran it just to see how it works. It holds 45 gallons of oil and has an oil cooler on the side of the machine. Shane is looking for a manual for this machine.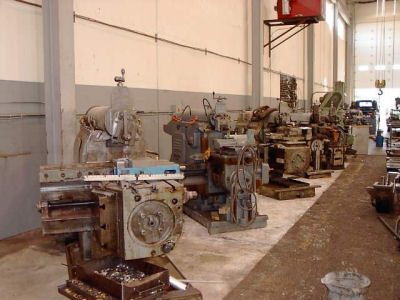 Shaper Row                                             Photo by Shane Carr
Shane now has them all set up in a row taking up 10 ft. x 40ft. of floor space!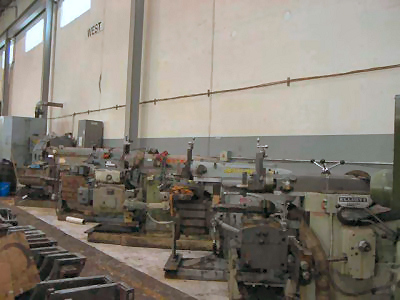 Shaper Row view 2                                  Photo by Shane Carr
Shane says the machines are in new condition though he admits they need some chrome and paint work.

Shane and Daughters                              Photo by Shane Carr
You might ask what Shane does with a shop so large that he can devote 400 square feet to shapers. The above picture is Shane and his daughters on Shane's steam locomotive #2816.
Thank you Shane for that shaper story.
Keep sending me email with questions and interesting shaper stories.
My email address is KayPatFisher@gmail.com.