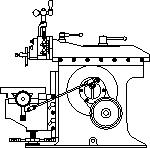 Shapers and Planers
This is still the shaper column but this month's article is about a planer. The difference is simple. A shaper holds the work stationary and moves the cutting tool (via the ram) over the work. A planer holds the cutting tool stationary and moves the work under it. Shapers typically vary in stroke length from 3 inches to 36 inches while planers more typically vary in stroke from 3 feet to 36 feet. Because of the size, only the smallest planers ever get into private hands. The following acquisition story of a Pratt & Whitney 12 x 12 x 30 inch planer is from a past contributor to this column, Pete Verbree.
Shapeaholic gets a Planer
"Those home shop folks that have come to know me in the last few years realize that I have a problem. It seems at times that I should be standing up in a meeting and saying "My name is Peter and I am addicted to machines."
After my adventure rebuilding my Alba 1A shaper (see columns 26-30) a couple of years ago, I had the opportunity to visit Frank Dorion, at his home near Hartford CT. Frank had been very helpful with information and support during the "Alba" project, and we had kept in touch since.
Frank had previously sent me some pictures of an old Pratt and Whitney planer he had acquired from another acquaintance and during the obligatory tour of his shop we stumbled across this sad looking machine in his storage shed. It was mostly all there, but mostly all rusty too.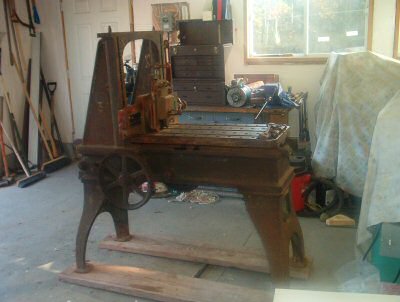 Pratt and Whitney Planer photo by Pete Verbree
Frank commented that it was on the "long term" project list, and that he hoped to get to it eventually. I commented that it was a nifty machine, and didn't make many other comments.
That was in the fall of 2002.
In the spring of 2003 I got email from a correspondent on the Yahoo shaper group, saying that a small planer was for sale in the Boston area for a reasonable price and that the owner was moving and unable to take it.
I sent this info to Frank knowing that this machine would fit into his growing collection of bench top sized machine tools.
I heard a little later that Frank did acquire this bench top sized planer and as the Pratt & Whitney planer was now surplus to his plans. He offered it to me if I was interested. What a stupid question!
Clock ahead to fall 2003
I arranged some vacation time and set off for Connecticut with a trailer in tow for a 14 hour drive. But what a drive! October in New England is beautiful. I traveled on the Massachusetts Turnpike from Albany NY to Springfield Mass. in a blaze of autumn colors. Too bad I forgot my camera.
At Frank's place, after a session drooling over his new Wormwood Planer, we disassembled the Pratt & Whitney planer, and divided the load between the trailer and the truck. The planer weighs about 1800 lbs so we removed the table and the head frame, and placed that much in the truck, and put the bed in the trailer.
I left for home on a beautiful Sunday morning to retrace my path to Sudbury, MA. I was a little apprehensive about the border crossing, as placing a value on the planer was near impossible.
I need not have worried. When I rolled up to the customs booth, the lady asked, "What have you purchased while you were away?" I pointed to the rusty iron in the trailer. She asked, "What is that?" I explained that it was an antique metalworking planer, and that it was built before 1903 as far as I could tell. She just rolled her eyes upward and said "Have a nice day." The look on that lady's face told me that she must have someone like me at home! Off I went, much relieved.
The 14 hour drive home seemed much shorter than the drive down. The high of "acquiring another project" must have kept me going.
After getting the machine safely unloaded in my shop, I figured that some research was in order. The machine has a maker's plate that says " Pratt, Whitney and Co. Hartford CT."
I looked this up in Kenneth Cope's book: American Planer, Shaper and Slotter Builders. Mr. Cope indicates that Pratt & Whitney started in 1860 as Pratt, Whitney and Co, and was re-formed in 1869 as Pratt and Whitney Co. This enables me to date the machine as having been built before 1870.
I found another piece of information that is useful in dating the machine. In 1869 Francis Pratt was granted a patent for a change in the drive system (patent # 93903). My machine does not incorporate this change, another indication that this machine is pre 1870.
One last piece of information I have found on my planer is the #32 stamped in several places on the machine. Some discussion on a couple of internet news groups indicated that this number may be either a serial number or it may be a "work-in-progress number", that would have been used to keep closely fitted parts together for a given machine that was being built as part of a group of several machines being built at the same time. I have corresponded with several other Pratt & Whitney planer owners, but all have indicated that their machines are later than 1870.
With any luck, I should have the machine cutting metal in the near future, although "restoration" will take much longer.
If anyone knows anything more about this machine I would appreciate hearing from them, I can be contacted at: shapeaholic@yahoo.ca
More pictures and information can be viewed at my webpage:
www.angelfire.com/sc3/shapeaholic/index.html
Thanks Pete for that contribution.
Keep sending me email with questions and interesting shaper stories.
My email address is KayPatFisher@gmail.com.