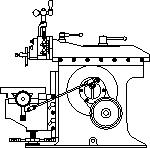 Voyage to Collect Shaper

Over time, I have observed that many people will buy a special lathe or milling machine or other significant machine tool at the drop of a hat if the price was right. Yet these same people are unwilling to hop in their car and drive a few hundred miles given the same opportunity. Years ago I came across an advertisement for a Myford lathe in Toledo Ohio. I phoned the owner and found it was still for sale. So I phoned my wife and asked permission, then called the fellow right back and said we'd be there in two days. We took off driving thru snow, stayed at a couple of nice motels, and made quite an adventure of it. It was a trip we will never forget.

Similarly there is only one car that you can order that has museum delivery as an option. For a few hundred extra dollars you can accept delivery of a new Chevrolet Corvette in the Corvette Museum in Bowling Green, Kentucky.

This is an adventure that hundreds of new Corvette owners have taken. Frequently fathers take their sons there as a bonding trip.

You are given a tour of the Corvette factory in Bowling Green then a tour of the Corvette museum. At the end of the museum tour, as you come around the last corner, there is a roped off area where your new Corvette is waiting for you. The staff gets you settled in and away you go out the door for your first long drive home.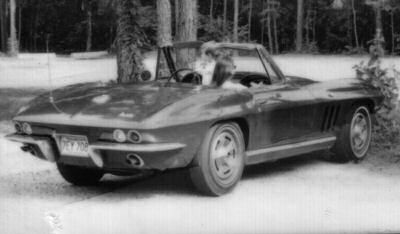 1966 Corvette Photo by Kay R. Fisher
The above picture was in Whidbey Island, Washington in about 1969. The Corvette was used and worth about $2,000 at the time. My wife Pat is holding our baby daughter (Wendy) who is now 35 years old. It was a 327 cu. in. 350 hp.
The story that follows is from Richard Byron Peddie from Boulder Colorado:
"I returned last night to Boulder, CO, after a 4,000 mile round trip to pick up the South Bend 7" shaper from Lyons, New York.
A friend with a truck was gracious enough to offer to accompany me. We set out on July 15th, and made it to Omaha the first night. The second night we stayed in Toledo. On the third day we made it to Pine Grove Mills, PA, and visited Andy Lofquist - proprietor of Metal Lathe Accessories. Andy provides beautiful kits for accessories for the South Bend 9" lathe, although many are readily adaptable for other machines as well. Stopping at Andy's was a treat because his shop is so sparse and small, yet he manages to produce such lovely, intricate work. He is a true artist. I left quite a bit of money on the table, buying many of those kits I had been eyeballing for a while, and justifying it to myself that at least this way I was avoiding the UPS charges on 146 lbs. of iron castings!
After seeing Andy we pushed on to Horseheads, NY, and checked into a motel at about 2 a.m.
The next morning we made it to Lyons, NY, quite early, and loaded the shaper: It is gorgeous, with the original stand and vise, and very little wear. I am quite pleased with it.
So we headed through Buffalo and into Ontario, stopping briefly in Niagara Falls. We slept in Windsor, Ontario, that night, and crossed into Detroit the next morning, spending a chunk of the day at the Henry Ford Museum. We made it to Holland, MI, by nightfall.
We took the ferry from Ludington, MI, to Manitowoc, WI the next morning - a pleasant respite from driving - and then had lunch in Green Bay at an old railway depot converted into a microbrew pub. I bought a Bridgeport cherrying attachment from a guy in that area, and we visited the National Railway Museum nearby. We made it to Hudson, WI, by night.

South Bend Shaper Photo by Richard Peddie
The next day I cracked open the paper only to find that a local Minneapolis technical school was liquidating some of their machine tools, and so that day was lost: I saw a Monarch lathe go for $1,000, an Emco CNC turning center, complete, go for $500, etc. I spent about $190.00, picking up a couple of small annealing ovens and some abrasives. We spent the rest of the day at a friend's place where my fellow traveler picked up a molding bench. Now the truck was FULL!
The next morning we set off and made it to Rapid City, SD, and yesterday we dropped down past Mount Rushmore, etc., through Cheyenne, to home. The odometer showed just about 4,000 miles in 8 days as we arrived.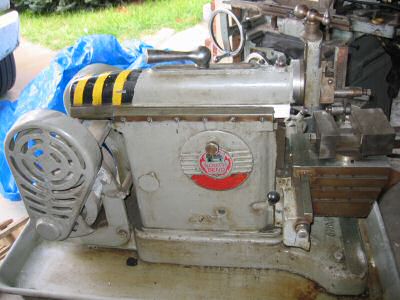 South Bend Shaper Photo by Richard Peddie
Just an example of one guy pursuing his shaper..."
Thank you Richard for that great acquisition story and pictures.
The ferry across Lake Michigan that Richard took is actually state highway 10 "continued". During the 1950s, old highway 10 was to the people of the northern states the equivalent of historic route 66 in the southwest. It went from Seattle Washington to Detroit Michigan. The ferry is large enough to also take several railroad cars!
Keep sending me email with questions and interesting shaper stories.
My email address is KayPatFisher@gmail.com.